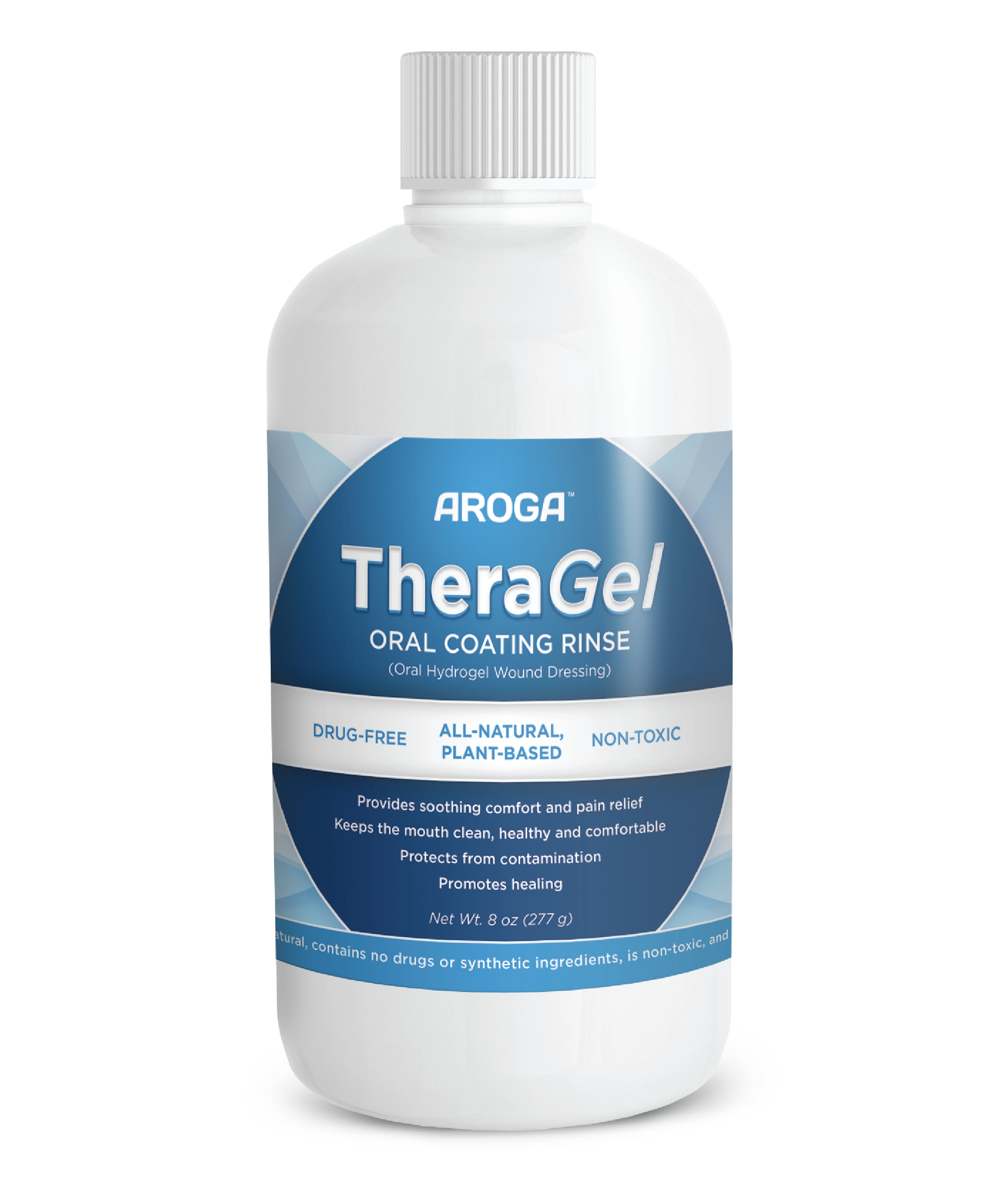 Aroga's TheraGel Oral Coating Rinse is a mouth rinse that is FDA-approved for all sores, wounds, ulcers, lesions, and irritations of the mouth.  It provides fast-acting pain relief without numbing the mouth, and promotes optimal healing.  
TheraGel Oral Coating Rinse contains no drugs or synthetic ingredients.  It is comprised of 100% plant-based food nutrients.  It is non-toxic and is safe for everyone regardless of age.  It is safe when swallowed.  TheraGel has three important features that all will love.  TheraGel Oral Coating Rinse is:
All-natural
Drug-free
Non-toxic
In addition, TheraGel Oral Coating Rinse provides three important benefits (the three PROs of TheraGel):
Provides fast pain relief without causing a numbing sensation
Protects wounded tissues from contamination
Promotes optimal healing
No drug or combination of drugs can provide these three benefits!
Millions of people suffer from mouth pain or discomfort.  Some are short-term, such as canker sores, fever blisters/cold sores, infections, sores from sharp or hot foods, dentures, braces, etc.  In addition, many people have chronic conditions that include, or can lead to, mouth sores.
The mouth plays a critical role in overall health.  Healthcare professionals now recognize the importance of the oral/systemic (mouth/body) connection.  If the mouth is not healthy, we are not as healthy as we can be.  Injured or ulcerated tissues, as well as chronic inflammation, in the mouth, can affect other parts of the body.  So, in addition to pain relief and healing, the third PRO of TheraGel, protecting oral wounds from contamination, is vital to optimal overall health.
Ingredients:
Water
Mannose polysaccharides 
Xylitol
Essential oils of:
Wintergreen,
Cinnamon,
Clove &
Thyme