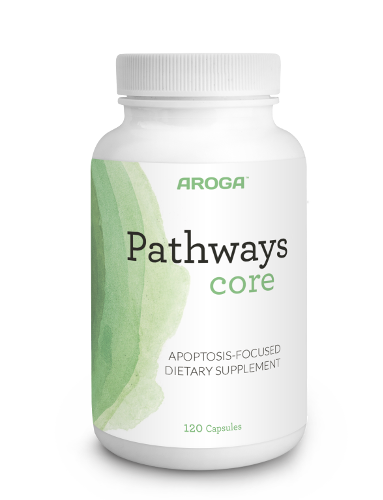 Pathways CORE is the world's only 100% plant-based nutritional supplement that optimizes cellular wellness by maximizing apoptosis function throughout the body.
Aroga Pathways CORE is designed to provide a solid foundation of apoptosis support throughout the entire body. Apoptosis is the process that all of the cells that make up our bodies have in them to repair themselves. If a cell cannot repair itself, apoptosis removes that cell so that it can be replaced by a new cell. Aroga Pathways CORE supports this process, and thus helps our bodies be rejuvenated and function optimally.
Each capsule (all-vegetable) of Aroga Pathways CORE is based on cutting-edge cellular science, and consists of 100% plant-based nutrients, contains no fillers or binding agents and is hand-filled in the USA.